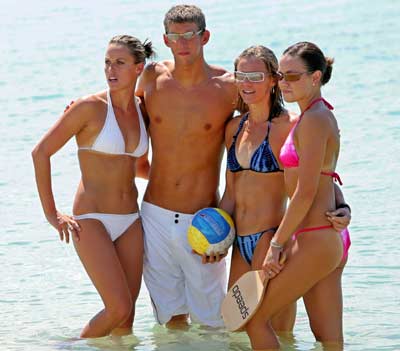 I started my art career officially in '83 after I did the Ironman. My first real job was at
Peter Green Design
where I learned the basics of both design and business. (Thank you, Peter!) My first lesson was learning that the company
OP
or
Ocean Pacific
, which was one of the first surf clothing related companies, didn't really exist!
That is to say that they had no factories or assembly lines making surfboards or clothes and that they were really nothing more than a logo and a marketing division.
OP
would go to OEMs or the
Original Equipment Manufacturers
would go to
OP
and say, "Hey, let us put this logo on these sunglasses, teeshirts, surfboards or anything that fits the
OP
brand and sell it!"
OP
would then market the brand, or the OEMs would market the brand for them, and OP would get a portion of the profits. Disney does this too and now Amanda Beard wants to do it as well. [
Link
]
Amanda Beard has signed with a company called
Stone America
. They are a brand licensing firm that takes a name like
Amanda Beard
,
Hang Ten
,
Laura Ashley
and then they find the OEMs who want to put their names or brand names on their products. Since humans are social animals, a brand name creates a social recognition with the buyer and thus differentiates itself as part of a particular "tribe" or social network.
Amanda Beard plans on licensing her name to any and all parties interested in leveraging her name recognition into various collections of products. I wonder how Speedo feels about this?
With
Playboy
,
Stone America
, and other business endeavors Amanda has her foot in, I see a swimmer here who is more interested in her career post Olympics rather than her swimming career at present. Subsequently, I don't believe she has the focus to make the Olympic team. I am seeing shades of Ian Thorpe here!