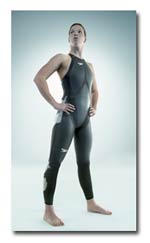 I think the definition of fabric is evolving so fast these days that it it has become just as archaic and just as absurd a concept as using the word "horsepower" to describe how powerful a formula-one engine is. (I am using a little Carl Sagan here in my analogy.)
Nonetheless, imagine a team of 1,250 horses lined up by twos pulling a stage coach as fast as they could? I think the Formula-one car would win. Consequently, see how inaccurate the term horsepower has become?
Read this snippet from
Textile World
describing the material of the
Speedo LZR
: "...Mectex applied an exclusive water-repellent and other treatments using its newly developed Plasmaterial™ technology, an eco-friendly nanotechnology using the energy of cold plasma and no chemicals or water to permanently modify the fabric surface. Isaac said the treatments reduce water absorption to only 2 percent of fabric weight, as opposed to 50 percent absorption in the Fastskin fabric. ..." [
Link
]
That is not a fabric, that is a woven, solidified, chemical of some kind. There is nothing really organic here or am I wrong? I am guessing that the suit started out as a fabric and then is altered by having the threads merge during this plasma process.