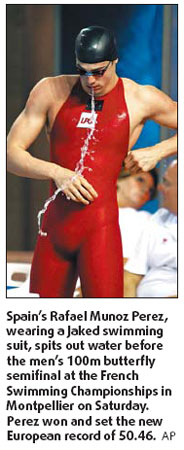 The
Jaked
has been accused by many has being hyper-buoyant but Spaniard Rafael Munoz says it is not:
From the
ChinaDaily
:
"... Some competitors said the suit had nothing to do with their displays.
Spaniard Rafael Munoz, who broke the 50 butterfly world record wearing a Jaked suit earlier this month and set a 100 butterfly European record on Saturday, said: "My times don't depend on the suit because if you throw it into the water it doesn't move by itself.
"It also has less buoyancy than others. It repels the water and could give some advantage but my times can only be achieved with a lot of work." ..."
[Link]
What also seems quite scandalous is that Bernard was wearing a suit without official FINA approval though Arena, his sponsor, say they submitted the suit well before the suit deadline! What does that mean before the suit deadline? Submission and approval are to different concepts.

Urethane is apparently the "new" Chloroprene; (The Jaked is all polyurethane), but now there is a rule in place for January 1st which states that only 50% of a speedsuit can be covered in polyurethane. The Speedo LZR and the TYR Tracer Rise make use of the urethane plates and they would seemingly be legal whereas the Jaked and others will have to undergo a major design retool.
What a coincidence that the two largest suit manufacturers happen to all ready meet that requirement well before that rule was even suggested in Dubai. (I am being sarcastic.) Could a person assume that both Speedo and TYR used their political leverage to game FINA? I don't know, but they both seemed better prepared design-wise heading into January 1st.

For instance: TYR has a Chloroprene suit; (TYR Titan), a polyurethane paneled suit; (Tracer Rise), and a "nylon" suit; (Tracer Light). They will certainly have one or more legal suits come 2010 whereas Jaked, Blueseventy, Rocket Science, and Arena may have some hefty R&D costs if FINA decides to reject what they have already approved.
As for Speedo, their urethane panels currently meet the 50% rule all ready out of the gate. It almost seems like some "psychic" alerted them to this rule two years in advance since their suit absolutely meets the "letter of the law" so thoroughly. It's almost creepy!