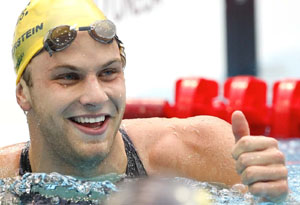 Steve sent us this! Every time I see Steve's name on a comment, I get a bolt of adrenaline up my spine and I think, "crap, I must have screwed up again!"
This is what Steve sent in from Hanson Media:
July 3: NSWIS swim star Andrew Lauterstein has moved himself well into medal contention for this month's World Championships in Rome by breaking the Commonwealth and Australian record for the 100m butterfly at the Giorgio Armani Swim Meet in Milan overnight. DAVID MOASE reports...

Lauterstein became the fourth fastest 100m butterfly swimmer of all time and just the fifth man under 51 seconds when he took 0.2 seconds off his previous best of 51.12 to set the new mark of 50.92.


[Link]

The Georgio Armani meet; How cool is that? I want to swim in that meet... No, strike that, I want to swim at a Bell & Ross swim meet and if you win, you get one of those cool watches that look like they came from a vintage German airplane!
So, this says two things to me: One, the Arena X-Glide is the new Jaked. Two, Speedo is essentially disowning the LZR like Nike did to their product.
For the record, I recommend the athletes sponsored by Speedo simply " ...Live by the sword and die by the sword." To change suits disrespects your sponsors and makes you, the athlete, look unreliable as a product endorser.
i.e. You race in the suit and if you lose, you eat a bunch of humble pie; every, single, freaking, crumb of it! Then you congratulate the winner graciously and you go look and see how many more days left on your contract or you renegotiate for loyalty money. But what do I know? - Not much! - All my medals are tin.
Fall on your sword!