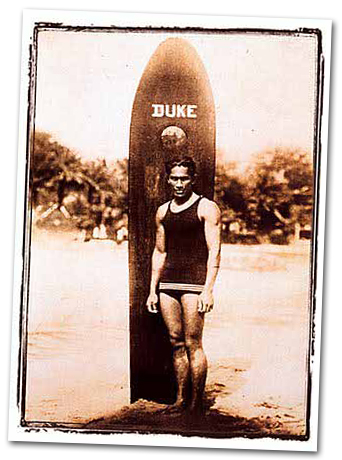 Using a Jetski to catch a wave and calling it surfing is like using a "Ecureuil/AStar" helicopter to land you on top of Mount Everest and then after walking down from the mountain stating you climbed it in record time!
Surfing is not water-skiing onto a behemoth wave while standing up in a fixed position with a surfboard attached to you feet and/or ankles. How can you call it surfing when a Jetski Chauffeurs you around like a rich old lady into the wave at 25mph so as to remove all the athleticism, dexterity and both gravity and momentum concerns? (Yea, yea, yea, water-skiing takes skill but it is not surfing.)
What would
Olympian Duke Kahanamoku
; (3-gold medals, 2-silvers), the founder of modern surfing think of being towed into a wave by a machine that spills oil and gas into the sea?
Riding the "biggest wave in the world"with a Jetski assist is nothing short of "vanity surfing" and definitely illustrates some serious personal compensation issues therein. Ken Bradshaw was the first to display his "peacock feathers," now it is some guy named Garrett McNamara is apparently a bigger "peacock" now.
From the
Mail Online
: [
Link
]