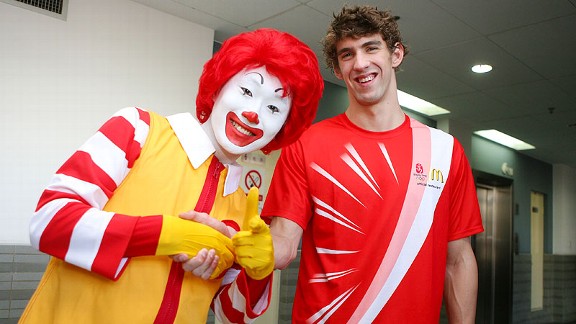 I didn't find any of it funny but the photo of Phelps and Ronald is pretty epic.

I love it that Ronald in the photo above appears to be Asian and female as well
Just a few American fast food insults from ESPN:
• Any burger ordered "triathlon style" will include a beef patty, a fish patty and pickles pinned to the side to resemble bicycle wheels.
• North Korean athletes will be afforded the chance to pose for pictures with Kim Jong-Un as he takes frequent refueling breaks between his many athletic conquests.
• Anyone who can finish 20 McNuggets faster than the men's 200-meter butterfly gold medal time will be awarded with a flight back to America, as it's the only country that will tolerate such behavior.
[Link]
Speaking of
McDonalds
, they are opening a restaurant for the games that will sit 1500 people. It will be their largest McDonald's restaurant ever and employ some 2,000 people. Side note, 12,000 people actually applied which is a serious endorsement for them as an employer. Though I am no fan of fast food, one has to acknowledge that
McDonald's
has been one of America's best ambassadors.
This
Mail Online
article is a must read:
McDonald's began its involvement with the Olympics in 1968 when the company airlifted hamburgers to U.S. athletes competing in Grenoble, France.
The firm first became an official sponsor at the 1976 Olympic Games in Montreal and in 1984 McDonald's footed the bill for the Olympic swimming stadium in Los Angeles.
The London Olympics will be the ninth games where McDonald's has acted as the event's official restaurant and the only branded food retailer feeding the athletes.
Usain Bolt, the world's fastest man who won gold at the 100 metres in Beijing in 2008, claimed that chicken McNuggets were key to his success.

[Link]