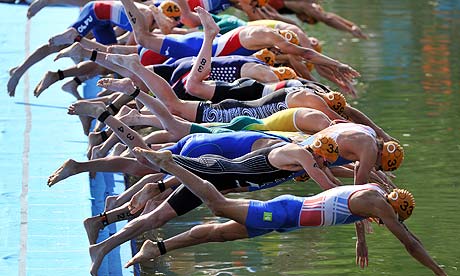 British swimming funding is in trouble along with tennis. Participations numbers have to increase or millions of English pounds are going to be spent on triathlons, cycling, and get this, netball! - Netball? (A scaled down version of basketball with no dribbling or backboard behind the basket.)
Is it that bad for for swimming and tennis that a sport called netball gets their funding?
From the Guardian:
"... But the Amateur Swimming Association (ASA) and the Lawn Tennis Association (LTA) were among six governing bodies effectively put on probation. The money devoted to developing talent at the top of their sports is protected, but grassroots funding is only guaranteed for one year.
Price said that the ASA had endured a "tough time" and its new plan was unproven, while the LTA's "simply wasn't good enough". While it has delivered on the "talent" part of its remit, developing promising junior players at the elite end of the sport, it has failed to grow the grassroots. "Its thinking has been some distance behind other governing bodies. We hope they're starting to turn the corner now. They are right at the beginning of this journey. We need to give them a year to step up their game and prove they can deliver it," she said. ..."
[Link]