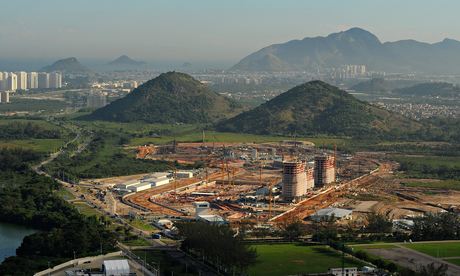 The 2016 Olympics is a socio/political mess thus far. Even governing chiefs are raising their voices and one in particular, International Tennis Federation chief Francisco Ricci Bitti. "
...called the situation "very serious" and said "we are scared."
As I write this 2,000+ Olympic venue construction workers are on strike because of the precarious working conditions. The strike there has been aggressive and warning shots have been fired into the air suggesting workers and security guards are quite at odds with each other.
From the
Courier Mail
:
"....Leaders of 18 different federations spoke out about Rio's troubled preparations in a meeting with Bach and the IOC board. All but one — volleyball — raised serious concerns.
The general feeling is that we are in the most critical situation in the preparation for the games that has happened in the last 20 years at least," said Francesco Ricci Bitti, head of the Association of Summer Olympic International Federations.

Ricci Bitti said the sports raising the issue of a "Plan B" were referring to venue plans, not moving the games.

"We are not at this stage," he said, adding that basketball, for example, could consider playing some games in Sao Paulo if the Deodoro venue won't be ready.

[Link]
Emerging economies often have environmental problems however one problem in particular, according to the
The Guardian,
could actually "kill" the sailing venue before it is even built.
From the
Guardian
:
"... Construction on the second largest cluster of venues in northern Rio, in an area called Deodoro, has yet to begin. Work on the Olympic golf course has also been delayed.

Severe water pollution in Guanabara Bay, the venue for Olympic sailing, is a growing concern with a test event scheduled in August. IOC officials have said they will not risk athletes' health if the water is unsafe. ..."

[Link]
But what about the pool? That venue was built in 2007 for the Pan American Games. The upside is that the pool is built. The down side is that it was built 7-years ago. Arguably, since FINA will not allow techsuits and insists on "tech pools" instead, don't expect a myriad of world records to be set in 2016.