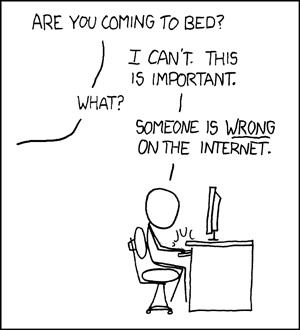 It turns out that a reader named Tom really pissed off Craig Lord to no end during an email exchange. So, Craig Lord has obviously decided to "show him" and let him have it at the
SwimNews.com
site. Now, thousands have witnessed Craig Lord's wrath upon a
SCAQ Blog
reader named Tom.
Here is what Tom wrote in an email to me:
As just mentioned in my previous e-mail, Craig Lord sighted me in an article for the "Times [online]" and
SwimNews.com
.
All I did was send him a letter to the editor e-mail...........ouch!
[...]
For five paragraphs Tom got flogged! I can't post all of the paragraphs since I won't violate the fair use clause but I will link to it so you can see how strong his words were: "...
"... Odd then, that some still think the suit issue is not worth a second glance. Take "Tom", a reader who tells me it's time to stop flogging a dead horse. Tom has another explanation for all that speed in your suit (and I quote): "HGH, Insulin Growth factor, CERA, Epogen, Micro-dosing, Test-E, Di-Hydromethylandrosterone (the clear)". ..."

[...]

"...There you go Tom - happy now? Perhaps not. Tom goes on to call into question my genetic make-up and cerebral function. I feel somewhat less moved by that than I suspect many of you will doubtless feel about having all that hard work and commitment - you know, all that stuff that had nothing to do with a suit - put down to the cookies in the jar described by Tom. ..."

"... And on that note, I'm taking the week off. Hope all those not on Tom's
cocktail have a good one and hope it is a particularly enlightening
one for a scientist called Prof Jan-Anders Manson. ..."

[Link]


He mentioned Tom's name ten-times during the article. You could just feel his abject anger towards Tom and his speedsuit opinions... But why?
I almost forgot: The lovely cartoon is from a website called
XKCD.Com
. Here are some links to my favorite ones:
[Link] - Grownups

[Link] - Angular Momentum

[Link] - Dreams