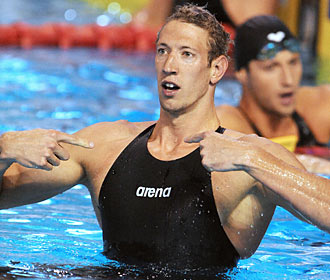 First the bloggers, now the press is pointing fingers at Speedo! I guess I am not crazy.


Speedo
should really do that interview for us and clarify how they do business. From
CBS Sports
:

"...Socialism is at work because FINA, the swimming governing body, has bowed to the sponsors who control swimming. Not contribute to swimming. Control it. Some of the equipment companies that make the biggest contributions to swimmers in particular and the sport at large, like

Speedo

, have had their trunks pulled down by lesser-known companies like

Arena

and

Jaked

. The irony is beautiful in that

Speedo

started this revolution, introducing the

LZR

that dominated at the 2008 Olympics in Beijing, but now

Speedo

has been passed like its swimmers are wearing concrete flippers. And

Speedo

doesn't like it. Breaks my heart.

[...]

"... You can almost see Schubert's lower lip quiver. The United States might not have swum as well as usual in Rome, but we pouted our asses off. Bob Bowman, Phelps' coach, threatened to withdraw his swimmer from future international events if the swimsuit controversy wasn't addressed, which is hilarious given -- again -- that Phelps' revolutionary (at the time) LZR swimsuit in Beijing helped him win eight medals and set seven world records. ..."

[Link]

Gregg Doyel
does make an error thinking
Nike
is still in the swimsuit business but overall his arguments are well stated.