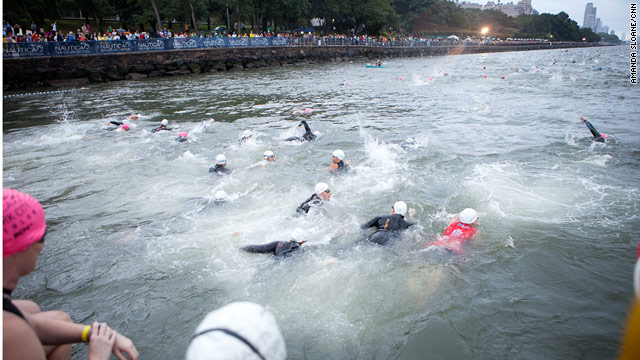 Two people died this year doing the the
New York City Triathlon
hence the event planners want to make the race safer by having people promise that they have swam at least a 1/2-mile in the open water before entering. In my opinion this sounds more like a "legal-out" than a serious drowning prevention plan.
Many years ago I did an
Ironman
in Kona, Hawaii. On the application I had to mention races I had completed so as to prove my "street cred" to even be considered as an applicant. In other words I had to have a resume that could be verified that I actually was fit and capable to do it and they had people checking these results.
Why can't the
NYC Triathlon
event planners adopt a similar strategy or perhaps sponsor open water clinics which athletes would obviously pay for so as to qualify these people for the event ?
From
CNN
:
"... The race takes place in a nearly one-mile stretch of the Hudson River, between 82nd and 99th streets. Korff says swimmers often count on the river's stiff current to help improve their swim time, but it's important to make clear that just because the swim leg is "fast" doesn't mean it's easy.

"A lot of people will, if they haven't swam in open water, they get to the Hudson, and they'll start to panic," he says. "We want people to know that you can't just put on a wetsuit, lay on your back and float."

[Link]
That last paragraph is summarily pathetic. The truth is you can float on your back if you are comfortable in open water. One would think that NYC triathletes would know this. The USA Triathlon governing body should look into this matter and set some new guidelines. Their waiver is summarily a "civil litigation prevention plan" more so than a drowning prevention plan.