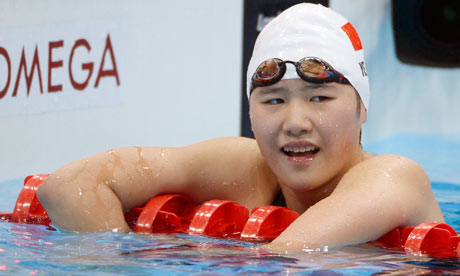 Apparently an IOC exec is not taking to kindly to Craig Lord and John Leonard's accusations. In a measured tone he politely scolds and if you read between the lines you can make out these words, "You do your job and we'll do ours so sit back and enjoy the show and don't subscribe to jackasses who are such sore losers."
From ABC News:
"... At a briefing Monday in London, reporters peppered Arne Ljungqvist, the International Olympic Committee's medical commission chairman, with questions about Ye Shiwen, China's 16-year-old swimming sensation. Ljungqvist said "it is very sad that an unexpected performance be surrounded by suspicions."

"Suspicion is halfway an accusation that something is wrong," Ljungqvist said. "I don't like that. I would rather have facts." ..."
What do more measured people have to say?
"... I get paid per month, per swimmer four times more than I do with my home swimmers," Wood said from Australia after Ye qualified comfortably fastest Monday in the 200 medley heats. China pays him bonuses for Olympic gold and for swimmers' personal bests, and he also got a bonus for Ye's 200 medley world championship win in 2011.

"China is putting a lot of money into its program and I am only too happy to work with them," he said. "The whole Chinese philosophy is that they want to be the best they can. ..."
[Link]
It's a three-page must read and these comments are just on the first page alone.
I want to finish with this: When NASA and the European Space Agency landed the Huygens probe on a very cold moon of Saturn called Titan, the data stated that the atmosphere was made methane, or natural gas. the same blue flame that comes out of our gas stoves. In fact the planet was cold that this methane rained down from the skies and created mighty rivers and a thick cloud cover.
With this in mind, this is an extraordinary claim but most people believe it because we have faith in them because of past accomplishments. How do we know it's not "ethane" or "helium?" Can any of us read the spectrometer data and verify it?
Can any of us cross examine a drug test?
I say dissolve your bigotries in the Olympic performances and revel in their excitement and result and let the professional behind the scenes do their jobs and jackasses like John Leonard should be scolded by their respective employers.
Go Ye Shiwen, Go World!