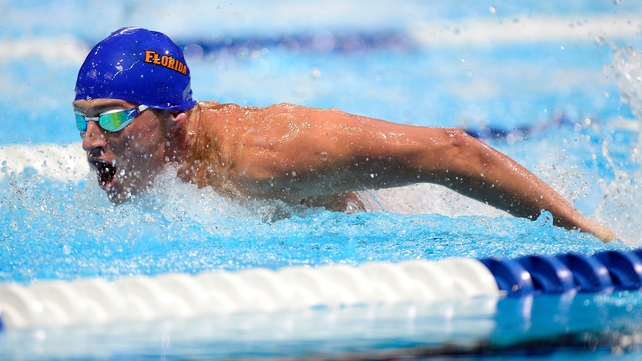 Have you noticed that when Phelps and Lochte talk about racing each other, they talk as if their 8-man finals are a merely a "two-man final?" It is as if the remaining six-swimmers are simply "movie extras" sent down from "central casting" for NBC.
From
RTE Sport
:
He will compete in four individual events in London and in two of them, the 200m and 400m individual medleys, he'll take on Phelps, owner of a record 14 Olympic gold medals. Lochte relishes the rivalry -- saying he believes that it could "change the sport".

[Link]
Phelps and Lochte do not have a lock on the gold medals they pursue and these games will be our toughest ever in the pool.
As for Lochte: Have you seen the 200-free times posted between last years 2011 FINA World Championships of Swimming and today? The times separating the top six swimmers in the 200-free is only a 1/2-second and please note that Yannick Agnel is the top seed if you just go by the times.
As for Phelps: In the 100-fly the top four swimmers are within a 1/2-second of each other and Tyler McGill is just an "eye-blink" away form beating him.

Finally, both Phelps and Lochte have to contend with each other in two grueling events, the 200-and-400 IM. As of late history has shown that they do have a tendency to trade places. If they split the difference, Lochte's legacy dilutes.
So, is Lochte correct when he says that his time has come and that he could change this sport? I don't think so. What would change the sport is if Ryan Lochte matches Phelps' accomplishments or surpasses him then the sport will change. I hold up Matt Biondi as an example: 5 gold, 1 silver and 1 bronze medal at the 1988 Olympics yet only the old timers within this sport remember him. Will anybody outside the sport really remember Ryan Lochte if he "just" matches Matt Biondi's accomplishment?

If Ryan is going to be remembered, it will be due to his good personality and great looks not his medal haul. Opponents are in the way and we may see the rise of China a new swimming superpower.